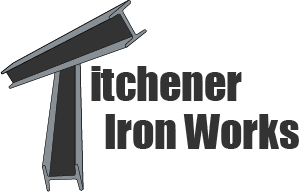 Titchener Iron Works fabricates and installs stairs, steel and aluminum railings and ornamental iron work.
Titchener, founded in 1920, is a fabricator and installer of miscellaneous and ornamental metals.  Products include stairs, railings and ornamental items used in industrial, commercial and institutional buildings.  The company primarily serves New York State customers located within 100 miles of Binghamton.
Customers include Cornell University, Corning, Inc., Binghamton University, SUNY, Frito-Lay and numerous facilities such as manufacturing plants, industrial concerns, schools, hospitals, office buildings, government buildings, malls, shopping centers.
The business was purchased by Moro Corporation in 2010.
Location:  Binghamton, NY
Fabrication: miscellaneous steel, ornamental architectural metal
Customers: general contractors, end users
SIC: 3441

[et_pb_dp_oc_custom _builder_version="3.15" direction="rtl" background_layout="light" thumbnail_size="dp-ocp-square-thumb" show_control="off" item_margin="20"][et_pb_dp_oc_custom_item _builder_version="3.15" upload_image="https://www.morocorp.com/wp-content/uploads/2018/06/appolo_slider.jpg" show_in_lightbox="off" use_original="off" url_new_window="off" box_shadow_style="none" url="/appolo" admin_title="Appolo" /][et_pb_dp_oc_custom_item _builder_version="3.15" upload_image="https://www.morocorp.com/wp-content/uploads/2018/06/ahle_slider.jpg" show_in_lightbox="off" use_original="off" url_new_window="off" box_shadow_style="none" url="/ahle" admin_title="Ahle" /][et_pb_dp_oc_custom_item _builder_version="3.15" upload_image="https://www.morocorp.com/wp-content/uploads/2018/06/jj_slider.jpg" show_in_lightbox="off" use_original="off" url_new_window="off" box_shadow_style="none" url="/jj-metal" admin_title="JJ Metal" /][et_pb_dp_oc_custom_item _builder_version="3.15" upload_image="https://www.morocorp.com/wp-content/uploads/2018/06/rondout_slider.jpg" show_in_lightbox="off" use_original="off" url_new_window="off" box_shadow_style="none" url="/rondout" admin_title="Rondout" /][et_pb_dp_oc_custom_item _builder_version="3.15" upload_image="https://www.morocorp.com/wp-content/uploads/2018/06/titchener_slider.jpg" show_in_lightbox="off" use_original="off" url_new_window="off" box_shadow_style="none" url="/titchener" admin_title="Titchener" /][et_pb_dp_oc_custom_item _builder_version="3.15" upload_image="https://www.morocorp.com/wp-content/uploads/2019/06/Whaling-Logo-With-white-space.png" show_in_lightbox="off" use_original="off" url_new_window="off" box_shadow_style="none" url="/whaling" admin_title="Whaling" /][/et_pb_dp_oc_custom]