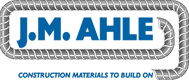 The J.M. Ahle Co. is a structural steel fabricator and distributor. The product line includes reinforcing bars, tie wire, bar supports, wire mesh, expansion joints and sealants, sealers, geotextile fabrics, form coating, styrofoam, fiber column forms, waterstop, poly film, waterproofing membrane and quickset highway patch.
J.M. Ahle's market area is New Jersey, lower New York State, Eastern Pennsylvania, and Delaware.
The company was founded in 1980 and purchased by Moro Corp. in 2000.
Locations: South River, NJ
Fabrication: reinforcing steel (rebar)
Distribution: construction accessories
SIC: 3442, 5051, 5085
Customers: contractors